Oyin Runsewe
Product designer
EdVis
An interactive dashboard to help international education planners make sense of learning data towards actionable policies.

EdVis is an interactive dashboard to help education planners better integrate learning assessment data for sustainable and equitable education systems.
TEAM
Designers - Aletheia Délivré, Rejeanne De Jong, Kayley Cheung, Nicolas Fan, Henry Mai
Data Scientists - Jenna Fu, Bowen Zhang
Web Developers - Onimisi Ukanah, Sam Tang, Haley Glavina
Project Manager - K.V.S Dileep
TIMELINE
January 29-31, 2021
CONTEXT
I teamed up with some fellow BrainStation alumni and joined the IIEP-UNESCO Hackathon Hacking EdPlanning in collaboration with Latitudes - Exploring Tech for Good
THE ISSUE
Although large-scale learning assessments have increased over the decades, this has not led to efficient educational policy and planning.
To better understand the reasons, UNESCO IIEP conducted a qualitative research study in six sub-Saharan African countries. The research examined how these countries used learning data and the factors that determined data usage to change educational policies.
The results showed a number of challenges preventing the efficient use of learning data in planning:
The lack of tools to visualize data

The inability to link learning data to explain the causes of poor learning.

No linkage of data to fields such as health and standard of living

There is minimal use of data by lower-ranked staff members who do not understand the data's technical presentation..
EXPECTED DELIVERABLE
A prototype of an interface that presents learning assessments in a way that facilitators at different levels understand for effective policy and planning decisions
RESOURCES PROVIDED FOR THIS CHALLENGE
A set of national large-scale learning assessment data of Burundi that contains both student outcomes and background information.
Friday January 29, 2021
Understand & Ideate
Team meetings
Expert interview with UNESCO's research officers
Data analysis (Data Scientists)
Crazy 8's and Sketching
Saturday January 30, 2021
Decide & Prototype
Solution presentation to team members
Vote and Decide
Logo ideation and branding
Fast prototyping
Sunday January 31, 2021
Build & Pitch presentation
Build prototype (Developers)
Create pitch video
Presentation + Q&A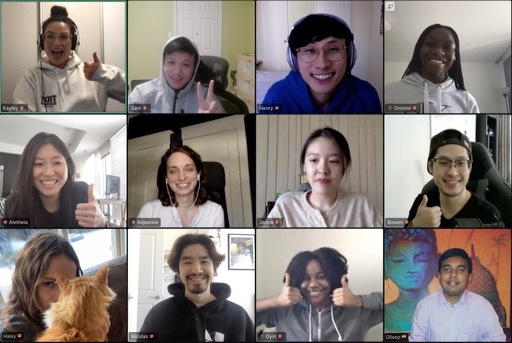 Our first approach was to break off into our different fields and work on the challenge, but after hours of sketching, we realized that we needed information from other areas to inform the interface's layout and content.
As a team, we decided to keep each other updated at every stage and hold quick meetings when a concept seemed unclear.
The Data Scientists synthesized the relationships between student learning outcomes and different student, school and teacher characteristics and factors related to other sectors.
The UX designers used the results to create an interface while consulting the developers to ensure they could implement our designs
The developers gradually built the interface as soon as design screens were completed and approved by everyone.
The Product Manager made sure we were sticking to our schedule and designing an interface relevant to the challenge.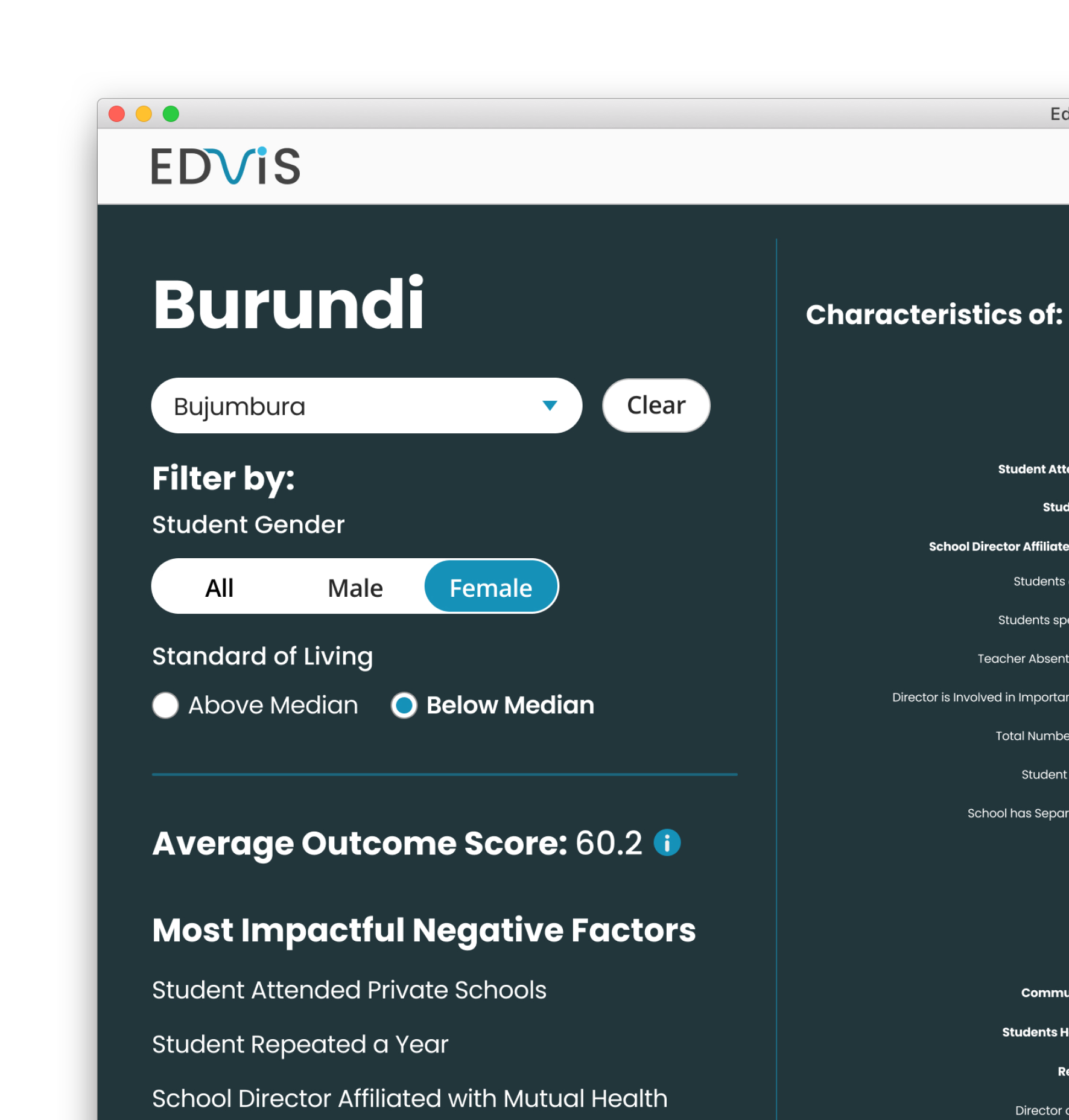 User-friendly, interactive interface

Visualizing learning outcomes by province (geospatial views)outcomes for targeted policy intervention

Linking baseline data with factors impacting learning outcomes for targeted policy intervention

Filters: Gender, Standard of living
Obtain more specific data on schools to further refine visualization levels
Observe year-over-year trends in learning outcomes over years
Integrate recommended policy actions from IIEP-UNESCO case studies into EdVis interface
Build out a portal to collect learning assessment data and facilitate data-sharing at all administrative levels
Establish a common language across the team to prevent miscommunication and enhance the team's workflow
Always seek feedback from your team members and stakeholders at every decision point because it checks assumptions quickly and allows for natural "pivots."
Don't be afraid to ask questions, especially in a cross-functional team with unfamiliar technical terms. Clarity allows for faster problem solving